December we will be looking into my kitchen in my Florida condo. I'm joining Sherry's IN MY KITCHEN where anyone can share!
I've bought a box of dripless Hanukkah candles for the upcoming holiday.
I am not much of a decorator for holidays, but I do have a few items for celebrating Chanukah/Hanukkah that I use from year to year.
When my kids were young, we did more decorating and celebrating. Now, not so much decorating but I still bring out some of the things I've collected since in Florida for the past 11 years.
We usually invite guests at least once or twice during the week for a holiday meal of soup, salad, and potato latkes. Then we light the candles together (and say the prayers and sing songs) for each of the eight nights of the holiday.
This is a small glass trivet that I display and use as a hotplate for serving during the holiday
This is a serving plate that I use to serve potato latkes (pancakes) during the holiday!
These colorful toy driedels are used to play the "dreidel game" on Chanukah. I've had them for years and they look festive displayed for the holiday.
One of my Chanukah dish towels. As you can see, the theme for Hanukkah is spreading the light, love, and believing in miracles!
I buy Hannukah cookies (I have not baked my own in years)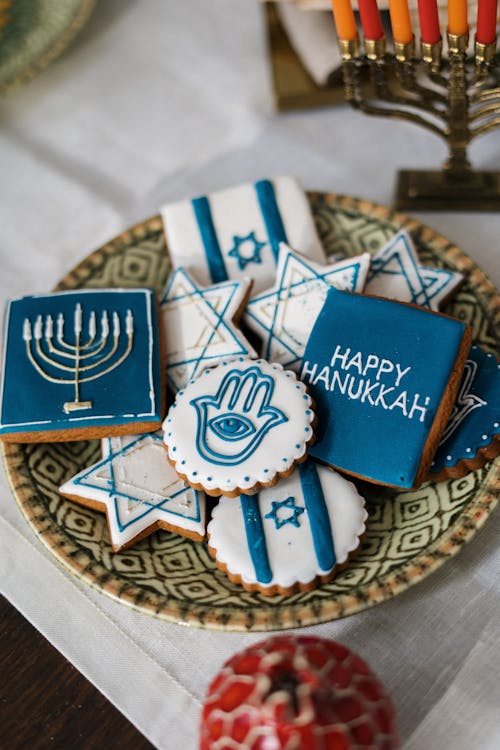 It is traditional to eat fried foods on Hanukkah! It commemorates the miracle of the little bit of oil lasted 8 days in the Temple in Jerusalem in the 2nd century B.C.! The oil was used in those days as candles for light. That is why we light candles to to bring in the light for each night of the holiday!
Jews of Eastern Europe background traditionally eat fried potato latkes (pancakes); Jews from Middle Eastern cultures traditionally eat fried jelly donuts.
Now, that I'm older, I don't do well with fried foods of any kind. I've learned to make oil-free potato latkes in the air fryer which taste quite good. Recipe link for oil-free latkes ( I won't tell they are not oil fried if you don't)
Let your inner light shine bright this holiday season and let there be peace and joy in the world!!
1. Hanukkah/Chanukah is spelled many ways. It is actually a Hebrew word that is translated into English.
2. Although Hanukkah falls on Dec. 7 this year, it will begin on a different day next year. That is because Jewish holidays follow a Jewish Biblical calendar which started over 5, 000 years ago. It is a lunisolar calendar as opposed to our Gregorian Calendar that based on 365 days and is a solar calendar. The Jewish holiday dates will fluctuate from year to year on the Gregorian calendar that we use but remain content on the Jewish calendar.
3.
Chanukah songs from Youtube:
Oh Hanukkah oh Hanukkah !!

An animated short Story of Hanukkah explains the background of the holiday for young or older kids (and adults who don't know the story)
Story of Hanukah read and explained by a wonderful story teller for younger kids (and adults who don't know the story). I enjoyed it!
My favorite modern Hanukkah song is by Peter, Paul, and Mary
" Light One Candle"- You gotta hear it- so so beautiful