Do you love salad the way I do? As one of my commenters said, "the vibrant colors and fresh ingredients make this salad a feast for both the eyes and the taste buds"! The lemony dressing is light and refreshing!
I'm been making lots of simple cherry
tomato and cucumber salads because local cherry tomatoes tend to be sweet, juicy, and abundant during the summer months, while the Kirby or Persian style cucumbers are crisp and fresh.
This flavorful Israeli style salad recipe is easy to make and is bursting with ripe summer flavors. The fresh juices from the tomatoes mingle with a simple salad dressing to add even more fresh flavor.
Whether you make this for company or just for a weeknight dinner, everyone will love it, and it will go with most entrees. If you want to add to it- be my guest with a little red onion rings, cilantro, olives, orange peppers, or whatever you have that is ripe and delicious. I often mix it up depending on what I have in the house.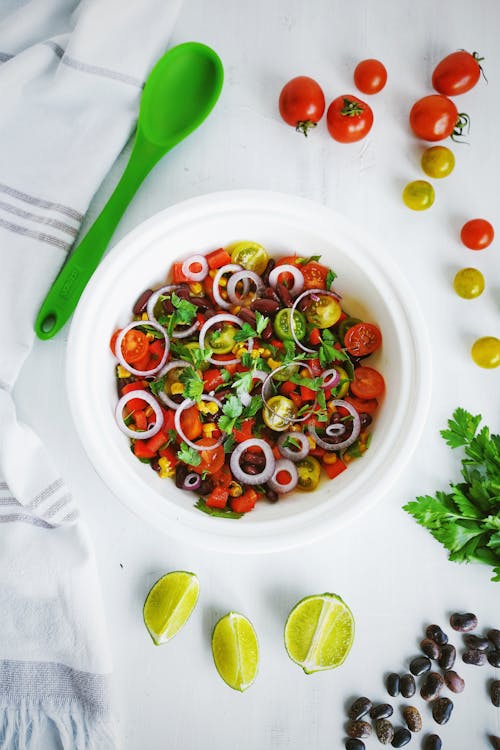 Small chopped raw veggies are the typical ingredients in most salads in Israel. There really isn't just one recipe for Israeli salad, and you can use many types of salad vegetables. The object is to cut everything very small but unlike American salads, the Israeli salad does not typically include any kind of lettuce or leafy greens.
On our recent trip to Israel we ate in the homes of many relatives and everyone made an Israeli salad with the meal! It was great for me as vegan eater!!
Personally, I love the simplicity and flavors of the cherry tomatoes and cucumbers! It's really not a recipe but a healthy concept that I think you will enjoy making this summer.
Israeli Dressing:
Typically Israeli salad is dressed with olive oil and freshly squeezed lemon or lime juice with salt and pepper, but you could also use your favorite Italian dressing.
I actually use Maple Grove Farms fat free dressing (link to Amazon) or I make a simple dressing using freshly squeezed lemon or lime juice and the juice from the cherry tomatoes with salt and cracked pepper.
Ingredients:
Cherry tomatoes, chopped small
Kirby cucumbers or large English cucumber, chopped small
Notes:
1. My friend Fern always places a sheet of paper towel on her platter first to absorb some of the juices if she is not going to use it right away. She removes the paper towel before she mixes the salad and adds her dressing.
2.
The amount of cherry tomatoes and cucumbers will vary depending on how many people you want to serve and their salad appetites. My salad in the photo served six which was two containers of cherry tomatoes and one large English hot house cucumber.
Disclaimer : I am an affiliate for Amazon. If you click on a link from my blog and make a qualified purchase, I will receive a small compensation at no cost to you, which helps me defray the costs of publishing a blog. Thank you. I appreciate your support!