This French inspired baked vegetable tian blends summer's abundant vegetables and fresh herbs to create an amazingly delicious healthy side dish.
It looks a little intimidating to make, but a classic tian is actually fairly easy to prepare and makes a truly beautiful presentation at the dinner table.
With origins in Provence, France, tian refers to both the earthen bakeware that holds the vegetables and the baked vegetables. The same way we refer to a casserole as the baking ware and the recipe. We would say a casserole dish and a cauliflower casserole.
Before people owned their own ovens, the town baker's ovens often became community ovens where people took their "tian" to bake overnight in a baker's oven.
In Provence, France it was customary to make alternating layered vegetable dishes using the trio of zucchini, eggplant, and tomatoes in one's tian.
We were in Provence, France recently
In other regions of France, they often used potatoes, asparagus, mushrooms or any vegetable that was available.
There is no specific recipe for a tian; It is more of a concept. People use whatever herbs and vegetables are in season in alternating layers.
My tian is made from alternating layers of local juicy summer tomato slices, eggplant slices, potato slices, and zucchini slices along with fresh herbs from my herb garden. I like the addition of the potato. It gives the dish a little more substance.
The flavors mingle beautifully when they bake, and the final product is exceptionally delicious.
I made two small tians: an oval and a round one. You could even use a rectangular pyrex and make the layers in rows.
Once I sliced my vegetables in 1/4 inch thickness slices, I cut the slices in half again because my casserole dishes were very shallow.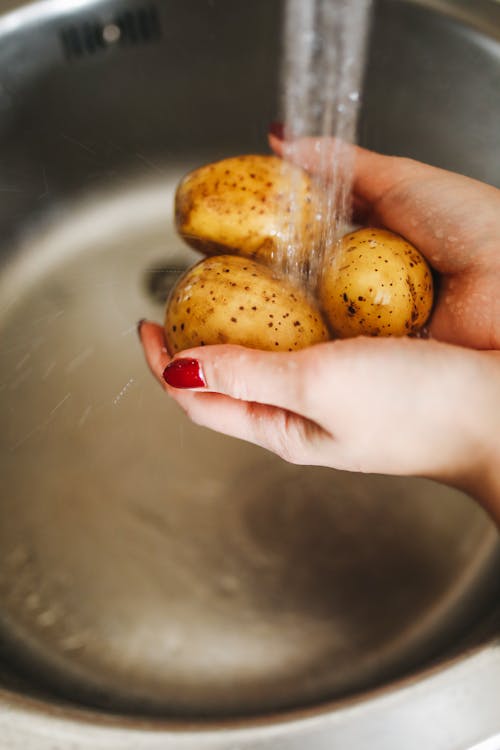 1 medium/large eggplant

1 medium/large zucchini

1 large golden potato

3-4 med/large summer tomatoes.

3 cloves of fresh garlic, some whole fresh sprigs of oregano, thyme, salt, and fresh rosemary- plus some of my herbs that I dried last season!

If you don't have fresh herbs- use an herb de Provence mixture (a classic blend of dried herbs found in most supermarkets in the spice aisle)
The flavors are light and amazing and this delicious healthy vegetable side dish will hit the spot served alone or over rice.
Ingredients:
1/2 medium/large zucchini, sliced in 1/4 inch thick slices and then sliced in half
1/2 medium/large eggplant, peeled and cut in 1/4 inch thick slices (and then sliced in half)
3-4 medium summer locally grown farm tomatoes (a must!!) sliced in 1/4 inch thickness and sliced in half.
1 large gold potato (or whatever you have but I like gold best)
3-4 cloves of garlic, sliced thickly
Sprigs of fresh rosemary, thyme, and oregano or use Herbs de Provence spice mixture
* the amount of vegetable will depend on the size of your bakeware
Directions:
Preheat oven to 400 degrees.
Lightly salt all the vegetables (don't leave this out unless by doctors orders)
Use a bakeware casserole of your choice and place slices in a circular direction alternately layering the vegetables until entire bakeware is filled. Squeeze the garlic slices between some layers intermittently. Cover with sprigs of rosemary, thyme and oregano or use Herbs de Provence to your liking. Cover the bakeware with foil and bake for 45-50 minutes or until vegetables are soft. Start checking after 40 minutes (depends on the thickness of your vegetable slices- not too thin please)
My Notes:
1.
My dried herb mixture that I made last summer contained some dried mint, and I even liked the taste of dried mint in my tien.
2. This is a beautiful vegetable to serve to company. Double the ingredients and make in a larger bakeware such as a rectangle pyrex.
4. Since the Jewish holiday of Rosh Hashanah (the Jewish New Year) comes in September when these vegetables are at their end but still prolific, I will probably make this recipe as part of our holiday meal.
5. The vegetables come out well cooked
Disclaimer: I am an affiliate for Amazon. If you click on a link on my blog and make a qualified purchase, I will receive a small compensation at no cost to you. Thank you for helping defray the costs of publishing a blog. Thanks for your support.